Reviews of Algonkian Writer Conferences - NYC Pitch

The comments and success stories noted below by writers and published authors who have attended the New York Pitch Conference are a representative sample of the total positive responses. All of the material is the result of various articles, interviews, comments made in Internet forums, as well as mails sent to us. NOTE: we do not simply list writers who have been published following attendance at our events unless we have received a communication from them advising us of the connection.





MORE AUTHORS AND CONTRACTS ON THE ALGONKIAN PAGE
---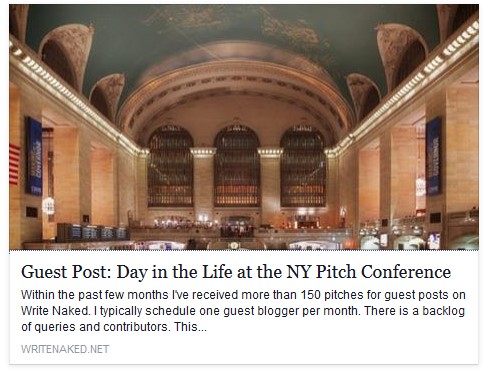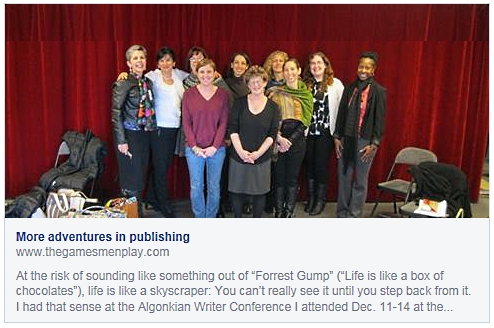 A week ago today, I began the first day of a 4-day pitch conference in NYC organized by the Algonkian Writers Conferences and attended by about 50 writers, male and female, Gen-x'ers to retirees, separated into 3 groups by their genres.

- Donna Rubino (The Camaraderie of Conference)

Hope all is well! I'm writing to let you know that I signed with Michelle Richter from Fuse Literary as my agent for my debut novel, whom I met and pitched to at your conference! She is lovely and I think we will be a great fit. Just wanted to thank you and keep you in the loop. When it is published, would be happy to write a testimony for the conference or whatnot :)

- Stacy Suaya, 12/15 Pitch

I wanted to say thank you for a wonderful conference. I am heading back to Montreal in the morning and will miss the last session, sadly. But, I want to tell you that this was the best writer's workshop I have ever been to. I've learned so much as a writer, and received such great help with my writing. I loved the honesty ...

- Melinda Cochrane, 9/14 Pitch

When I got home from the New York Pitch Conference last year, I started some pretty fierce revisions on my manuscript based on the feedback I had gotten. I took it from 150,000 words to less than 100,000 over the next few months and entered the Pacific Northwest Writers Association literary contest. I got a call saying I was a finalist and so I decided to attend the PNWA conference that summer, which ended up going very well. Everybody I pitched to requested the full manuscript. I also sent out a new batch of query letters, leveraging the fact I had a couple editor requests from the NY Pitch Conference as well as a first place ribbon from PNWA. So I'm represented now by Katie Reed from the Andrea Hurst Agency!

- Halie Fewkes, signed by Andrea Hurst

Congratulations to you and your staff on an outstanding conference these past few days. I want to also let you know that my Team Leader, Paula Munier, did one heckuva job. Her innate enthusiasm and exhaustive knowledge of the writing and publishing business was a constant source of help and pleasure for all of us on her team for the entire four days.

- Jim Smith, 9/14 Pitch

The Pitch Conference is everything it claims to be and more. Because the conference participants are screened, editors know they are not wasting their time. Each editor I pitched listened carefully, giving suggestions and asking questions that improved my pitch, as well as my novel. My workshop leader followed up, interpreting the editor's feedback to be sure each writer got the most out of the encounter. My novel was requested by four of the five editors I pitched. Tessa Woodward at William Morrow quickly made an offer for it, and Paula Munier, who'd read my first page at the conference, represented me to negotiate a contract. After getting Tessa's notes, I began a significant re-write that will expand and improve my novel more than I ever could have on my own.

Just so you know, I spent five years researching and writing my novel before I went to the Pitch Conference. For the past year, I had been querying agents and submitting to small presses. One agent requested it then didn't even bother to email back to reject it. Two other small presses rejected it and all other agents and presses didn't even reply. I owned a copy of Writer's Market, I had written what I thought was a good pitch, I researched each agent and press so I could tailor my query. Still, nothing was happening.

Attending the Algonkian Pitch Conference was an investment in my career as a writer. For me, it paid off beyond my wildest dreams. No matter what, though, it would have been worth it for what I learned.

- Kim Van Alkemade, signed by Harper Collins

I am a hardened cynic and I will admit the pitch conference won me over. Do NOT attend the conference however if any of the following are true: 1) You have thin skin. Your novel is unlikely the end all and be all of novels. Out of our entire group not a single person didn't need to do a rewrite, and 75 percent had to do massive rewrites. 2) Are too attached to your manuscript. Along with thin skin if you do not think you can make major changes in your manuscript then do not attend. I am adding 2 new villains, scrapping one beloved major character, and changing the setting of my novel 3) You do not enjoy working in a group. Had I not been selected by publishers, I still would have left happy as I gained a valuable group of people to bounce ideas off of and that share my passion as a writer.

- Christopher Lee / Criminal Defense Attorney

The New York pitch editors, especially Lyssa Keusch and Michelle Richter, were the most helpful professionals I've ever spoken to at a writer conference. Their advice helped me considerably, improved my hook and fortified my plot. After a long and often tiring trek through the world of New York Publishing and literary agents, the reality check worked. Thank you.

- Bonnie Carlins, writer and author

The Algonkian conference was pivotal in moving my career forward. While I went there thinking it was just a really cool way to meet publishing editors, it turned out to be a portal into so many other avenues of the publishing business. Because of the conference, I've signed with the agent of my dreams!

- Dave McMenamin, Signed by Talcott Notch Literary Agency

I wanted to pass along the good news that I signed with Writers House this week, and they'll be representing my novel Tiny Dancer. I'm certain that I would not have gained their attention were it not for the vastly improved pitch I crafted at the NY conference in June. Susan, I remembered that you are with Writers House as well, so I was especially excited to tell you.

Thank you both so much for all of your help and invaluable advice! I couldn't be happier with the results thus far!

Sincerely,

- Kelley McNeil, signed by Writers House

None of my progress would have been possible without the kind, honest, and useful criticisms from workshop leader Ann Garvin. She has gone above and beyond her role as group leader to give me helpful feedback on my manuscript, making it immeasurably better. She has a gift for seeing what isn't working and pointing you in the right direction.

My experience with Ann helped me so much, I've been telling my fellow women's fiction authors to attend your workshop with the hope they will benefit from Ann's guidance too.

Thank you,

- Amy Reichert

I was not one of the fortunate individuals to catch an editor's notice. However, my group was very supportive of my work and have been a great help. I learned so much during the coference, and I would like to thank the NYC workshop leaders and my fellow peers and friends for their advice which I take to heart. I went home sulked for a few days, and now I'm back to work, searching for agents, possibly revamping my large 141,000 word MS to a three part series, and further crafting my Query letters basing them on the Pitch.

If not for the Conference, I would not have garnered the experience and knowledge of my mentors and peers. There are not very many opportunities like this in Michigan.

- Sandra Glynn

Reviews of Algonkian Writer Conferences - NYC Pitch

You may remember me participating then: I was in Charles' group - the cloak and dagger brigade - and my pitch was about a mystery set in WWII Sarajevo. I made a couple of successful pitches, one of them to Tom Colgan at Penguin, and I thought you'd like to know that I've since been offered a two-book deal with them. The first book should be coming out in June next year.

I thought it important to write to you because, without the opportunity afforded by the conference, I wouldn't have made the contacts I did.

- Luke McCallin

So pleased to share this news with you and extend my thanks once again for the career boost from the pitch conference: "Rosemary DiBattista's (writing as Rosie Genova) MURDER MARINARA, first in a new mystery series featuring a quirky Italian-American family and their restaurant on the Jersey Shore, to Sandy Harding at NAL, at auction, in a three-book deal, by Kim Lionetti at BookEnds.

- Rosemary DiBattista
---



NY/PRNewswire: "On Maggie's Watch"


NY/PRNewswire: "Lipstick in Afghanistan"
---
I attended Pitch and Shop in NYC in Dec. 2006, and I now have an agent for the book I pitched, Grace at War. At the conference I gained the current title from a suggestion by a fellow writer and discovered (from ediors' reactions) that my one pov character should be Grace, age 16. One editor, from Norton, liked Grace and my pitch more than the others; all were positive. I thank you for the conference & your invaluable help ... I am a friend of Wendy Eckel's--she met you through my proselytizing about Algonkian!

- Susan Moger
First write a good book; if you're not sure about that, attend one of the other Algonkian Workshops. But if you do attend the New York Pitch Conference, be prepared for the fallout. I walked away with such a successful pitch, but realized I had to rewrite my book to make sure I delivered what I sold the editors. With workshop leader Susan Breen's help, I have three publishing house editors who want read my manuscript. Wanna write a successful query to an agent? Put that in your first paragraph. I have over a dozen requests for my manuscript now!

- Kim Boykin (Interview with Kim Boykin)

I have already had a novel published by a major publisher, but getting the second book out there has turned out to be more difficult than I expected. I asked my agent what she thought about taking the new book to the New York Pitch Conference. She thought it was a fine idea, so I went for it. It turned out to be a great experience. I got lots of help refining my pitch and the opportunity to pitch my book to four editors. Where else can you tell your story to four editors who are actively looking for books to buy? I think the answer to that is "Nowhere else." But the icing on the cake, I think, was that the workshops gave me new insight into the very essence of my book. I had lots to think about when I got home, and revised accordingly.

- Author Natasha Bauman

My novel became a higher concept project because of the New York Pitch Conference experience. I was also encouraged to think of it in broader terms and consider developing a series.

- Author Pamela Binder

Algonkian offered me the opportunity to be part of a real writers group where my ideas and evolving characters were first introduced to other writer and potential readers. That critique allowed me to tweak my characters and storyline to perfection. Algonkian's approach in fine tuning my pitch helped me to tighten my manuscript as well. As a result, my manuscript sold to the very first publisher who saw it!

- Roberta Gately, author of Lipstick in Afghanistan
Suite 101 Review

Reviews of Algonkian Writer Conferences - NYC Pitch

The New York Pitch Conference sessions sharpened my focus considerably. They train you to look at your work in a certain way. And of course, exposure to the frank opinions of people in the publishing world is priceless ...

- Author Kate Gallison



Three out of four publishers asked for my work, and one, has been helpful to me in suggesting agents, and is happy to discuss the book with any who are interested. This is a result beyond my wildest expectations, and thanks to the hard work of you and your team (especially Rachel Sherman!) in putting on these conferences. Thank you.

Keith Lord



The Algonkian Conference assignments helped me to refine the organization of my novel, and see it in context of the actual market. The intensive pitch workshops were brilliant for learning to see work from the publisher's point of view. The agents were very generous with their time and gave thoughtful feedback to everyone. I also attended the New York Pitch Conference and can say that these two conferences have filled in the blank left by my MFA: how to actually get published.

Kari Pilgrim



I am arrogant, manipulative and intelligent, but not unrealistic. The New York Pitch Conference was exactly what I needed - a reality check. I learned what publishers look for and shy away from, and gained a deeper understanding of the unlikely odds of becoming one of the few that get published. I walked away with a lot of work to do - reworking parts of my novel and studying my genre.

Three months and many, many hours later, I have "almost" completed my editing. The 79,000 word novel is nearly perfect, far better than I thought I could make it - well, except for the last chapter, which currently sucks. I would not have accomplished this but for you and your conference. I can't tell you how grateful I am for that.

Terri-Lynne Smiles



Thank you for your wonderful conference where I met wonderful people and which led to acquiring my agent, Sally Wofford-Girand, which led to getting this dream to come true.

Sujatha Hampton



This is one e-mail I have been dying to send--this week I signed with Kim Lionetti at Bookends. If it weren't for the conference, it would not have happened.

Many, many thanks!

Rosemary DiBattista



Four months after the NYC June pitch conference - I want to thank you so much. I've gone back to Eros and Omissions (thanks again for the title!) with all the advice in mind. From 50,000 words it's on a trajectory for 80,000. I feel that it's a much richer, more developed work, with a strong opening, backstory dramatized ...

Thanks again for your help with the pitches and your wisdom re writing generally. This Algonkian Writer Conference is unique among writing seminars. I've since highly recommended it to many of my writer friends.

Warm regards,

Carol Polizzi



I am thrilled to share the news that my novel GRACE AT WAR, a 14-year old girl's account of her brother's re-entry into the world after a year in combat in Vietnam, has won first prize in the Maryland Writers Assoc. (MWA) 2008 Novel Contest in the mainstream/literary fiction category.

According to the MWA letter that accompanied my prize, GRACE AT WAR received "exceptional scores" from the judges "in a very competitive" field of entries from all over US and Canada-- so I'm feeling "exceptionally" motivated to move Grace to the next steps: professional editing and finding an agent.

Attending the Pitch and Shop Conference in December 2006 in NYC was instrumental in advancing my novel to this point.

Susan Moger



And I can't brag enough on Susan Breen, our intrepid group leader. She was fantastic and a the perfect guide for our little group: part mother hen/part ninja. (Of course I bought her book immediately and just finished reading it...and I loved it.) I don't know if this happens in every session, but our group really bonded into a unit over the days of the conference and we've been emailing like crazy since it ended. We've even set up a Yahoo group to make it easier for us all to stay in touch. A lovely side benefit of attendance at this Algonkian conference.

Anna Lefler


I am drawn to telling stories about women who discover their inner strength through great adversities ... The workshops gave me an opportunity to review the overall structure of my novel. Refining the pitch forced me to isolate the major plot points. By focusing on the sources of conflict and suspense, I gained a clearer picture of changes that needed to be made.



I was beginning to get discouraged in the "find an agent game." I'd managed to wrack up a more than a few rejections on the queries I'd sent out. Then at the conference, with the help of an amazing workshop leader, I was able to improve my pitch. Three out of four editors at the conference requested my manuscript. That and the enthusiasm of my fellow attendees gave me heart. With an improved pitch and the editor interest to back me, I jumped back into the fray, Now, a few months later, I've signed with Emily Sylvan Kim of the Prospect Agency.

Thank you, Algonkian Writer Conferences.

Amy Ester Fischer


Perhaps coincidentally, I found doing the New York Pitch Conference and then following up with an Algonkian Writer Conference most effective. In any case, it is what I did. The pitch shop highlighted problems while the follow up looked into solutions. It's pretty hard to point to any single thing that helped the most since all parts of a novel are critical simultaneously. You must have plot but not at the expense of character but neither really work without paying attention to creating interest and tension throughout the writing. Maybe that's your answer: a more sophisticated view of the entire book.



I wanted all of you to know that I had about a 95% positive response rate on the query I worked out with the group at the conference. At the time Brick House Literary Agency asked to represent me, I had 6 agents reviewing my ms. I began querying on Sept. 20 and one week later, I had 6 agents request the ms. I landed an agent less than one month after I began querying. This is largely due to the contacts I made, the information we shared, and the feedback I got from the Pitch conference.

Sujatha Hampton

This is a relatively small conference - 60 people - which made it possible for us to get to know one another, share information, and for the editors and workshops leaders to give us individual attention. Being grouped by genre (such as women's fiction) was very effective as it gave us a sense of identity, and meant that the information we received, and the discussions we had, were all specific to our genre. Most conferences try to do and be too many things, causing the writer to feel scattered and overwhelmed.

From John Ford (five figures for young adult fiction -
THE MORGUE AND ME - Viking)
The New York Pitch and Shop Conference offered direct access to major publishing houses, great mentors, and a community of supportive writers. The editors drew me to the conference, but the bigger benefit for me was the invaluable instruction in honing my pitch. The intensive workshops force you to crystalize the appeal of your manuscript. That helps greatly in the pitch sessions, but also -- maybe more importantly -- in drafting query letters and in editing the novel itself. It's no coincidence that such a large proportion of our small group found publishing success after Charles Salzberg helped us identify and focus on the strengths of our work.

From Susan Breen (five figures for women's fiction -
THE FICTION CLASS - Plume)
I am the person who sold my novel at the New York Pitch Conference. I met with an editor from Plume, pitched the idea and she liked it and after several weeks, and rounds of discussion and so forth, she made an offer. Meantime, Michael Neff helped to set me up with my agent, who is a lovely person at Trident Media. So I can honestly say that going to that conference changed my life.
#2 Post
Let me just share my experience here. Before I went to the New York Pitch Conference, I had been to a number of more traditional conferences--Bread Loaf, Antioch, Writers @ Work and so on. When I saw the ad for New York Pitch Conference, I had just finished my novel, The Fiction Class, and I was about to embark on a search for an agent (which is a long story in itself) and I was thinking I would apply to a conference. Then I saw the ad and I liked the fact that it was different than anything I had done. Quite honestly, I was at a point in my career where I thought I needed to do something different. I knew it was a long shot, but I was going to spend the money on one conference or another and I figured it was worth giving it a try. I had met agents before at other conferences, but I liked the directness of this one. The whole purpose was to try and sell my novel; there was no pussy footing around. Also, I just liked the idea of meeting an editor face to face. If you are not in publishing, you just do not run into editors and since these people were the decision makers, I wanted to see what they were like.
Everything turned out so much better than I had dreamed. I did sell my novel--not right at that moment, because there is a process. But I did sell it because I went to New York Pitch Conference.
My thanks to Algonkian Writer Conferences.


From H. Scott Dalton (attendee at New York Pitch Conference)
Since the conference, three of our group, including Will, have been offered contracts for the books they pitched (I, unfortunately, have not had an offer yet). All three say the coaching they received at the conference helped them shop their books more effectively by tightening and targeting their queries.
For myself, I decided to attend for a few reasons:
It gave me a chance to meet other writers, folks serious about this craft, including some from the Big Bad Industry.
It gave me an opportunity to get a reality check on my writing and my book, and help me figure out how to market it to maximize my chances.
It might get me struck by lightning, get picked up and avoid the frustrating query-and-rejection cycle I'm in now (please note, though, I did not go thinking I was guaranteed a contract).
Hell, it was a chance to go to New York.
As it happens, all but the struck-by-lightning thing worked out. I'm still in contact with several of the folks I met there, one of them Will, and we all continue to learn from each other. Personally, I find it useful to be able to put names and faces to my fellow rookies, and have at least one common experience to look back on. And meeting one-on-one with four real live editors helped me gain a little perspective on this business; the four of them, and all the rest of you, are much more human to me now than before. For me, the conference was worth the price tag.

From Will Lavender (six figure deal for his thriller - OBEDIENCE
- Shaye Areheart)
This Algponkian Writer Conference helped me TREMENDOUSLY. Tremendously. I did a few things in New York that were of help: I changed the title of my manuscript after it was clear that our group didn't really care for it, and the title change helped me realize some of the book's themes; I was asked to submit my manuscript to an editor at Penguin (something I put on my query letters); and I tightened my query to the point where I was 90% successful in terms of agents asking for partials or fulls. I also met some good people and some good writers there.
According to their website, three of the writers in the group I was in have made deals. I'm with Shaye Areheart; another writer is with Plume; another is with Knopf. There were 16 in the group. That tells you that, while these writers may not have landed deals with editors during this conference (I didn't; the manuscript was eventually rejected by Penguin), there is some legit talent in the groups you pitch with.
I can only speak for myself: it was well worth the money I paid.



If they just gave you what you paid for at the New York Pitch and Shop conference - face time with serious decision-makers from the top publishing houses - it would be worth 10x what they charge. But they go further; personal guidance, encouragement, and honest evaluations of your novel.

Ginger Lombardo



My weekend at the New York Pitch Conference was one of the few highlights in my beginning writing career. The tutoring from the workshop leaders, the support and encouragement of my fellow writers, and especially the feedback from the editors was well worth my time and money. Three of my children attend private universities and three others are enrolled in expensive athletic programs- (that's right- six children, one husband, a mortgage and a whopping grocery bill) pennies are precious, my spare minutes are few, but I considered the conference invaluable.

I shopped conferences extensively before choosing the New York Pitch Conference. Because I've a finished manuscript that has been extensively work-shopped, I wanted a conference where I received personal evaluation and critique by professionals who are top in their league. I got what I wanted and more.

Kristine Tate



I went to the most recent conference worrying how to juggle four editors all wanting my well-written, professionally-edited, much revised story. That was not a problem, however. I learned that my masterpiece is going to rot until I learn how to pitch and market the theme (a.k.a. premise).

At another writer's conference, I had 15 minutes each with an agent and editor who, having previously read some of the manuscript, told me my writing was excellent, the humor great, etc. But they weren't interested. At the NYC Pitch & Shop conference, I learned why. If you cannot sell your novel idea within the first two minutes, the remaining time is for polite chat. That's the real world.

Greg Bascom



The New York Pitch Conference, as rumored, is cool, and like someone said, a little like American Idol. Writers are real tense and anxious about their meetings and the responses they are getting.

Some of them cry and others storm around, but the pitch staff calm them down. They have too much stake in the process and want to quit their day jobs.

I don't blame them, but ya gotta have perspective.

One of the coolest things about the New York Pitch Conference is the venue at Ripley-Greer. Lots of art and cool theater people and ooooh la-la dancers of both sexes mingling and rubbing shoulders with the writers.

Never seen anything like it, really.

David O'Keefe



I attended the most recent New York Pitch Conference and as a currently unpublished author found it to be well worth the time and expense. I travelled from North Carolina, paid for a NY hotel (at a reduced rate thanks to the conference sponsor) plus airfare. Not only was I able to refine my pitch and present it to interested publishers, but participants were able to sit in on early pitch sessions and benefit from the professional critique of other pitches.

Oh, and by the way, an executive editor who has worked with the likes of Tom Clancy is currently considering my mystery-thriller manuscript for publication. How much is that worth?

Guy Forcucci



Before attending the conference, one ought to do one's research. From what I was led to understand, there were no guarantees. It was not advertised to be anything more than a conference for pitching to editors - face to face. I did not expect editorial help, except as related to the pitch, and I was given more than I expected. I was also given a peep-hole into the current state of affairs in fiction, and I saw what kind of a crapshoot it is - not just for writers but for editors, as well. I saw that editors who were known for taking a certain kind of fiction could be on the lookout for other kinds, so long as it met this nebulous criteria of seeming marketability. When I parted with my $500, I knew from outset that there was a chance that none of the editors might want to see my work, and even if they all wished to see it, that there was no guarantee any of them would take it. It was difficult, but it was an experience I'm grateful for. It was informative, as well as being a reality check, it was helpful in providing editorial contacts, and it was an opportunity for bonding with other writers. The people in my group and our facilitator were first rate human beings.

Alice B.



I attended in March. Before applying, I studied the website. I made sure I was the kind of writer who might find the experience -- and hence the expenditure -- worthwhile. It was obvious that there were no promises made regarding contracts, fame, or fortune. What you were promised was face time with 4 editors, and what was promised was ABSOLUTELY delivered.

On the first day, participants were aided in developing their pitches -- a very different animal from the standard query letter -- and during the following days, we pitched and honed accordingly, all the while aided by the conference organizers and presenters. Personally, I came away with more than I initially expected. 3 of the 4 editors asked for partials and/or the entire manuscript. My novel is still under consideration by an editor I never would've reached via the slush pile. Other participants had similar success, while others still received a much needed reality check, or simply insight as to how the publishing world works. There were disappointments to be sure, but it wasn't due to the conference, it was due to the individual manuscripts. Writing is a subjective art form, like love, and like love, not everybody found a match during our "speed dating" sessions with the editors. However, everyone in my group -- regardless of their success level -- found the experience worthwhile.

Most importantly, I met a lot of great people who do what I do and are at the same place in their literary pursuits. I live in the Midwest. I don't come across many people who are aspiring authors. Writing is a solitary endeavor and to have met a few colleagues, as well as another writer with whom I now exchange work and have a real and lasting friendship is, as the Mastercard ad says, priceless.

Amy Hanson



Like others, I came from quite a distance and found the workshop to be more than I had been able to imagine, because I had no idea that what we were going to learn was so labor intensive. I couldn't imagine how it could take three full days to perfect a one to three minute pitch. I can now, and really have a grasp of what I've taken on. This line of work--writing fiction--is no where near an easy task. Sometimes I wonder if I'm off the deep end, but I love the writing and so am willing to keep trying. I appreciated the fact that there were no punches pulled. The Shop staff were almost brutally honest when it came to my writing and that is exactly what I wanted. And, I was told what was wrong and what road to take to fix it. Again, exactly what I wanted. I was told from the first that only a certain level of writing was accepted at this 'conference', and I found that to be true. It was scary exciting and intimidating, as well as motivating to participate in this workshop. Like anything, no one thing works for everyone.

Lisa Buie-Collard



I came from Canada, another from the Cayman Island, others widely from across the USA. The conference offered training in how to "pitch" one's manuscript, and it offered a face-to-face opportunity to pitch to four editors.

It delivered.

There were days of discussion on improving the pitch, rehearsal sessions, opportunities to discuss one's work and whatever else one pleased with fellow 'wannabees.' Reduced cost hotel accommodation across the street was also arranged.

I did not personally get a contract. Penguin did look at my book and rejected it -- I can't believe that was for any reason other than it didn't match their requirements.

Anyone signing up for this workshop should feel comfortable that they will get what they are told -- however, a guarantee of publication is NOT PART OF THE OFFER.

Michael Hall



I attended the latest pitch and shop and found it to be tremendously helpful. If you have honed your craft and written a saleable product you should have no problem attracting an editor's attention. You learn how to pitch in one minute. I didn't understand how that was done. I do now, and I do it very well. I recommend it highly. It was the the best writing conference I've experienced.

William Holland



These are my experiences with the Pitch Conference. I suppose in the back of my mind I went in hoping for some miraculous discover me at the soda fountain Hollywood story. This didn't happen but then I'm no Lana Turner.

The meat of the conference was preparing the pitch. This meant giving the pitch to others in a group of about fifteen writers and listening to their pitches. This helped me focus on two things: what was my novel really about and how could I communicate that effectively in as few words as possible? These may seem like simple matters but to watch fellow writers struggle to make a compelling summary of their works was fascinating and instructional. This process was repeated and the improvement in the presentations was apparent. The pitches were presented more confidently and they were worded more confidently.

We had a good group. I respected them as writers. Members of our group actively rooted for one another and we have kept in touch since. All of the ones I have communicated with shared positive stories. There are several I am hoping to see in print come some day.

I saw four editors. My pitch lasted two minutes followed by the editors asking about three minutes of to-the-point questions. One asked for my manuscript. After a couple of months of mulling it over, it was ultimately rejected.

The NYC Pitch Conference was an excellent experience for me. In a short time I learned how to see through an editor's eyes. I understand now how to present my creation in that one page query letter that seemingly every agent requires. Worth the money? Not if you are only hoping for that Lana Turner type moment. But it taught me what I needed to know to bridge the gap between art and business. I would consider doing it again - especially if I knew I was to have as enjoyable and affirming group as I had my first time. If I were to drop something in their suggestion box I would have the team create a conference for graduates of the first conference. If I were to return, a lot of the basics I would be learning would be redundant.

BTW - the Lana Turner story is a myth anyhow.

Martin Hill Ortiz



I attended the June New York Pitch Conference and found it to be an amazing experience.

Right off the bat there were no promises of publishing contracts. There were promises of a reality check, help in perfecting our pitches and face time with four reputable editors from major houses. They delivered 100% and then some.

Our group leader, an established writer and teacher, took the time to work with us to hone our pitch, making himself available before our morning session began and it the afternoons. He sat in with us when we pitched to the editors. Our face time with the editors was not one minute, it was anywhere from five to fifteen minutes. The editors also provided helpful critiques.

An executive editor from Penguin requested my ms, I would not have had the opportunity to pitch to him if I wasn't at the conference and my pitch would not have been perfect if it wasn't for the guidance I received by my group leader.

Although not everyone was asked to submit their ms, we all gained valuable advice and critiques to better our work. No one in my group found the conference to be a waste of money.

I also agree the conference reminds me of American Idol. We were all very nervous and very tense, but we bonded together to cheer and support each other. Most of us still keep in touch and have gotten together post conference. I've made valuable friendships and have the support of other writers and that's priceless!

Robin Tauber



I attended the NYC Pitch and was very happy with the conference. I learned how to write a pitch, what the editors are looking for and buying, the fact that their editorial board has to come on board, and that the markets are tough, but doable, if you have learned everything you need to learn to sell. I came to the conference with the understanding that I would learn what I needed to know to find a publisher for my novel and I now know what to do. I also came with the understanding that anything was possible, that my book might be ready by my standards but that there may be several more things I needed to learn before an editor could take it. I came away with that understanding in place, and am revising the novel currently with an agent's help. My manuscript is still out at 3 publishing houses, and I'm eager to hear what they say. If they don't take it I want to know why, and how I can revise to meet the needs of the current markets. I used my experience as a learning curve and am hard at work on what I have to do with the novel now to make it saleable. Was it useful? 100%.

Barbara Keegan



First of all, the conference was a tough one. I received more honest and hard-hitting reaction than anywhere else and my novel is the better for it. I'm rewriting now and plan to attend a second NYC pitch conference by 2007. The editors were encouraging and professional, but not soft, and the workshop editors were fantastic. The whole group bonded and we're still sharing mails and work.

I got just what I wanted and I've never had quite the same experience at another conference.

Julie Field

--------------------------------------------------------------------------------

This conference more than met my expectations. The cost was reasonable, considering the information gained. I've attended at least two writers' conferences a year for the past ten years and have taken the opportunity to I pitch my manuscript to agents and editors whenever possible. But, I really didn't know what I was doing until I attended the New York Pitch Conference. If I'd had that knowledge and experience before attending other conferences, I'd have felt more comfortable, and my pitch would've had a higher chance of success.

One highlight of the conference is your interaction with other writers. I was placed in a group, many of whom wrote in my genre. We all pulled together and helped one another shape our pitches. By the end of the three-day conference, I felt a sense of comradery in my group. In fact, six months later, we continue to remain in contact.

You get out of a conference what you put into it. Actively prepare and participate, and you'll be glad you attended.

Richard Romfh

Click here for more details about the conference.
If you need to contact us click here.
---