An Interview With New York Pitch Editor Caitlin Alexander

Caitlin Alexander is a senior editor at the Random House Publishing Group, where she acquires and edits a variety of fiction and nonfiction. Her authors include New York Times bestsellers Michelle Richmond (THE YEAR OF FOG), David Gibbins (THE LOST TOMB), Andy McDermott (THE HUNT FOR ATLANTIS), and Gwen Cooper (HOMER'S ODYSSEY); Angela Davis-Gardner (PLUM WINE and the forthcoming BUTTERFLY'S CHILD), Sally Koslow (the forthcoming WITH FRIENDS LIKE THESE), national bestseller Elizabeth Joy Arnold (PIECES OF MY SISTER'S LIFE), and International Thriller Writers Award winner Tom Piccirilli (SHADOW SEASON).

NYC: These days it appears more and more true that for various genres of fiction aspiring authors often have an edge in getting a first novel published if they possess an authentic platform for telling the story, i.e., a media platform, or at least one of sufficient experience and expertise that applies in a significant way to the essence of the work.

Do you see platform becoming more important these days for certain types of fiction. And if so, what kinds? What do you look for in the way of platform when in the office, or at a conference listening to a writer pitch you their work? And can you give us writers some tips in this area?

CA: I do see a platform as being more important for fiction these days—for general fiction or literary fiction more so than for genre fiction. One of the first questions I ask a writer I'm considering is: What inspired you to write this book? What I'm looking for is some kind of personal or professional connection to the subject that's going to make an interesting story in and of itself and that we can use to help promote the book, including pitching essays to media outlets and blogs. There's a lot of competition for readers' attentions, so anything that can make the book stand out will help.

The corollary is that readers and reading groups want—and expect—to connect with authors personally these days—so, having a great personal story is going to make someone feel like they've gotten to know you a little bit and probably make them more interested in reading your book. Social networking is a big part of that—an author is going to really have to put him or herself out there these days and become as visible and networked—both within the literary community and with readers—as possible. I also consider that to be part of the "platform" necessary for fiction authors these days—if a writer comes to me as an active participant in a blogging community relevant to their book, or with other similar ongoing activities, I know I don't have to worry about whether or not they'll be an asset in spreading the word about their book when it's published—it automatically gives a writer a leg up.

Advice: Presumably your novel contains a topic you are passionate about (baking, photography, a medical disorder, traveling to Paris, etc.)--or at least one you were interested enough in to spend several months or more writing about. Don't wait for a book deal to seek out other people online or organizations who are interested in the same topic(s) you are. And just as every writer should be an expert reader, reading the books that are similar to yours and studying why they're working (or not), check out what kinds of things published writers are doing and which seem to be garnering the most response.

NYC: Which fictional elements do you like to hear clicking soundly in a pitch communication, those that enable you as an editor make a decision as to whether or not the project has commercial potential? Can you summarize the elements and tell us which ones are most important to you, and why?

CA: As I'm listening to a pitch, I'm listening for characters who grow over the course of a novel, a plot that has something big at stake (which can equally be something in the characters' personal lives or saving the world from a disaster), and button pushers, by which I mean the things that I'm going to be able to put in the cover copy that are going to make someone reading the description instantly want to pick that book up: a missing child, three generations of women, a famous historical or literary figure, a boyhood secret suddenly resurfacing—to name just a few of my favorites. Of course, the catch is that I'm also listening for what an author brings to the story that's unique and is going to make it stand out from dozens of other books with similar hooks.

NYC: Have you found it a valuable or rewarding experience for you, the editor, to engage in discussions with writers about their projects? Do you feel such discussions about characters and plot, etc., help the writers focus on the truly vital issues they need to hash through before they can become published authors?

CA: Absolutely—if the author is listening and is open to feedback. I think the writers who benefit most are the ones who are interested in improving their craft and their chances of being a successful author—not just a published author.

AC: It seems axiomatic over time that publishers prefer, if possible, to market novels with great stories and characters, and that it behooves an aspiring author in most genres to attempt, insofar as possible, to create a story that is "high concept", i.e., commercially viable yet not sounding like a tale you've heard a few thousand times, or worse yet, one that everyone knows has failed in the marketplace. Can you discuss this? How important is a story that sounds unique while also flying a banner of potential commercial success? Or is "mid" or "low concept" equally acceptable as long as the prose is superb, as one might find in more literary novels? Or does it naturally depend on the genre?

CA: Aha, I think I touched on this above—"a story that sounds unique while also flying a banner of potential commercial success" is critical, in my opinion. But superbly written literary novels that don't initially appear to have that high concept usually do—it's in the breathtakingly resonant insights those novels offer into our lives and our interactions with those around us; the way they make us think "I knew that" and "I never thought of it that way" at the same time. There's a way to position and sell those novels, too.

AC: How important are a writer's fiction writing credentials in the genres you represent? Are you more or less likely to ask to see a project if the writer has strong fiction creds? What are your standards? Do you balance creds against a great story or are both equally important?

CA: Unless those credentials are for top-notch literary publications or well known movies or TV shows (or, even for fiction, journalism for top magazines or newspapers), it doesn't make a difference. Regardless of past writing, it's going to come down to how strong this particular book is. Past writing credentials are an asset if it's an affiliation with a publication that's going to have a meaningful impact on publicity, but otherwise they don't play a significant role. That said, it never looks bad, so always include them!

NYC: What other great advice can you give the aspiring authors out there? What is important to you that we have yet cover?

CA: The opportunity to pitch your novel at a conference or participate in a writing group—in general, to get any sort of objective feedback on your writing—is invaluable. It's easy for an author to self-publish these days if they don't immediately find an agent or publisher, and while for some that's a good route, I think too often writers want to rush to publish and use it as a substitute for honing their craft. Perseverance is key—and there are a lot of inspiring stories out there of successful authors' routes from unpublished to published; for most of them it wasn't their first (or sometimes second or third) manuscript that got them an agent or editor, because they took the time to become the best writers they could be.

AC: In general, what do you see as the future of novel-length fiction, both in terms of quality, and in terms of evolution away from paper? Will bookstores always have a place in American culture?

CA: I don't think novel-length fiction is in any danger of disappearing. One thing I've been fascinated by over the past few years is the increase in novels which are actually, in structure, linked short stories—there's been a wealth of really terrific ones, and I'm loving that writers have figured out a way to work around the difficulties of selling short story collections.

Will bookstores always have a place? I would certainly like to think so, and that physical books and e-books will coexist for a long time to come. The more our interactions move into online and digital, the more special those opportunities to get out and connect in person become.

Click here for more details about the conference.

If you need to contact us click here.

---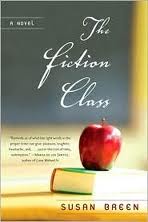 It started with a literary novel, "The Fiction Class" by Susan Breen. As of winter 2011, the New York Pitch has assisted and networked writers into more than four dozen agent and publishing contracts. Tin House and Squaw Valley, MOVE OVER! More information can be found on our news page. 

---
Interview with New York Pitch Conference attendee, best-selling author Pam Binder. Two of the four editors I met with asked to see my work and the other two were very interested ... I credit the reception of all four editors to the pitch. It generated questions which helped me explain in more detail the vision of the project.  

---

What if - Do one exercise a day from "What If?" and you'll be writing for more than a third of a year. The book is packed with 115 exercises. Indispensable.

The Art of Fiction - Because Gardner strives for "higher art", his musings and instructions for the beginner go much deeper than ordinary how-to books. A must for all novel writers.

Bird by Bird - Lamott's suggestion on writing the novel is down-to-earth: worry about the characters, not the plot. Writing is more rewarding than publication. Easy for her to say?


WRITERS AND AUTHORS
TALK ABOUT THE
New York Pitch Conference


Interview with New York Pitch Conference attendee, Randy Susan Meyers. The critique isn't for the faint of heart, but is for those who truly want to hear where they need to work on their presentation, how commercial their ideas are, and about the effectiveness of their pitch  


Interview with New York Pitch Conference attendee, author Kate Gallison. Her second mystery series featured Mother Lavinia Grey, an Episcopal priest in a small town in New Jersey struggling to keep her church open and solve the occasional murder ... 

Interview with New York Pitch Conference attendee, Madhu Ghosh. This conference is very different from others in that it is what it says it is. Most conferences try to cram in craft lectures with readings and then interviews with editors and agents, which can get chaotic and confusing.  

Interview with New York Pitch Conference attendee, writer Sara Beth Jonassen. Sara Beth has workshopped extensively with The Writer's Studio in NYC. She graduated Summa Cum Laude from the University at Albany, where she studied with author Laura Marello (winner of the Aniello Lauri Award for Fiction).


---