• New York Pitch Home Page

• New York Event FAQ

• Agent and Pub Contracts

• Pitch Alums Comment

• How it Works at The NYC

• Who Should Attend NYC?

• New York Pitch Faculty

• Application-Registration

• Contact Us Here





SHARE WITH OTHERS


           








Contracts and News   Commentary   FAQ    NYC Faculty   Who?   Registration



NEW YORK PITCH - TWO JUNE EVENTS





Due to New York City opening its doors and the current positive situation involving a marked decrease in cases as well as the broadening dissemination of vaccines, the NY Pitch has decided to hold a live event in New York come June 17 - 20.

However, for those who might still be hesitant to attend a live event, we will also hold a second event online via Zoom video conferencing technology come
June 24 - 27.

And we wish to make it clear that if you choose one event over the other now, you can always change your mind and switch events up to two weeks prior to the date of your final choice. In either case, we look forward to seeing you in June.






---




NEWS : NEW YORK PITCH ONLINE



At recent 2020/2021 New York Pitch events held online via high-tech video conferencing, upwards of 67 projects were chosen for professional consideration by NY Pitch faculty for both book and TV/film markets. Agents, publishing house editors, and producers in attendance included agent Amy Stapp from Wolfson Literary, editor Hannah O'Grady from St. Martins, film producer Ken Atchity of AEI/Story Merchant, senior agent Michelle Richter of Fuse Literary, editor Elle Keck from Harper Collins, editor Miranda Hill from Penguin-Random House, editor Chris Morgan from Tor/Forge, editor April Osborn from Harper Collins, film/tv executive Brendan Deneen from Assemble Media, senior agent Paula Munier of Talcott Notch, and editor Gwen Hawkes from St. Martins. Novels selected from multiple genres included SHOUTING AT LEAVES, WAR GODS OF AFRICA, ALL THE GIFTED, GOD OF THE FALLEN, THE GIRL WHO SOLD DEATH, THE WASTELAND CREW, RESURRECTION ARC, LAST SORCERESS OF ROME, AMERICAN CALIPHATE, THE RULES OF HAUNTING, A MILLION MILES TO DAISY, THE SIFTING, WOUND SOWER, GETTING RID OF DAVION, A DEATH OF ANGELS, THE DARK RESISTANCE, and THE GREATEST ELECTRICAL SCIENTIST.









| | | |
| --- | --- | --- |
| | | |
| | - New York Pitch Authors and Books - | |
| | | |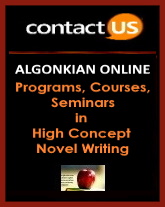 ---
Algonkian Writer Conferences
2020 Pennsylvania Ave, NW
Suite 443
Washington, D.C. 20006

---