• New York Pitch Home Page

• New York Event FAQ

• Agent and Pub Contracts

• Pitch Alums Comment

• How it Works at The NYC

• Who Should Attend NYC?

• New York Pitch Faculty

• Application-Registration

• Contact Us Here





SHARE WITH OTHERS


           








Contracts and News   Commentary   FAQ    NYC Faculty   Who?   Registration



NEW YORK PITCH COVID RESPONSE





Due to current circumstances in New York and around the U.S.A, the NY Pitch will be holding the March, 2021 conference online via Zoom video conferencing technology. We hope that a live event in New York will be possible by June, or a hybrid event that features both video conferencing and studio sessions.

As in June, September, and December 2020, we look forward to a successful conference in March, 2021.






---




NEWS : DECEMBER NEW YORK PITCH ONLINE



At the December 2020 New York Pitch held online via high-tech video conferencing, upwards of 25 projects were chosen for professional consideration by NY Pitch faculty for both book and TV/film markets. Agents, publishing house editors, and producers involved, included among others, editor Hannah O'Grady from St. Martins, Ken Atchity of AEI/Story Merchant, Michael Neff from Algonkian and AEI/Story Merchant, Michelle Richter of Fuse Literary, Elle Keck from Harper Collins, Miranda Hill from Berkley, Chris Morgan from Tor/Forge, Brendan Deneen from Assemble Media, and senior agent Paula Munier of Talcott Notch. Novels selected from multiple genres include AMERICAN CALIPHATE, A MILLION MILES TO DAISY, GETTING RID OF DAVION, A DEATH OF ANGELS, THE DARK RESISTANCE, and THE GREATEST ELECTRICAL SCIENTIST.


























| | | |
| --- | --- | --- |
| | | |
| | - New York Pitch Authors and Books - | |
| | | |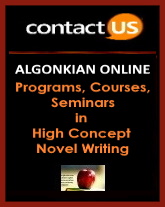 ---
Algonkian Writer Conferences
2020 Pennsylvania Ave, NW
Suite 443
Washington, D.C. 20006

---