• New York Pitch Home Page

• New York Event FAQ

• Agent and Pub Contracts

• Pitch Alums Comment

• How it Works at The NYC

• Who Should Attend NYC?

• New York Pitch Faculty

• Application-Registration

• Contact Us Here





SHARE WITH OTHERS


           








Contracts and News   Commentary   FAQ    NYC Faculty   Who?   Registration



NEW YORK PITCH COVID RESPONSE



At the time of this page creation, 7/23/2020, COVID cases in New York were at their lowest since very early March. As of now, we intend to hold a live New York Pitch event in Manhattan. It will take place at our favored location, Ripley Greer Studios on 8th Avenue, and the management there has assured us that sanitizing precautions will be in place according to the strictest CDC guidelines. Also, the studios are large enough to permit appropriate distance.

If circumstances change, however, we will hold the event online as we did for June, which by the way was very successful.

For those who cannot attend the conference in New York, we will make Zoom conference arrangements to allow participation with editors and agents via video conferencing.

The New York Pitch Conference has now established pre-event one day seminars that focus on a solid premise and market foundation for the novel. Four different seminars are taught by faculty from the event.














| | | |
| --- | --- | --- |
| | | |
| | - New York Pitch Authors and Books - | |
| | | |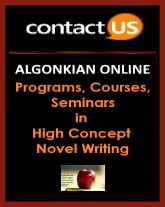 ---
Algonkian Writer Conferences
2020 Pennsylvania Ave, NW
Suite 443
Washington, D.C. 20006

---